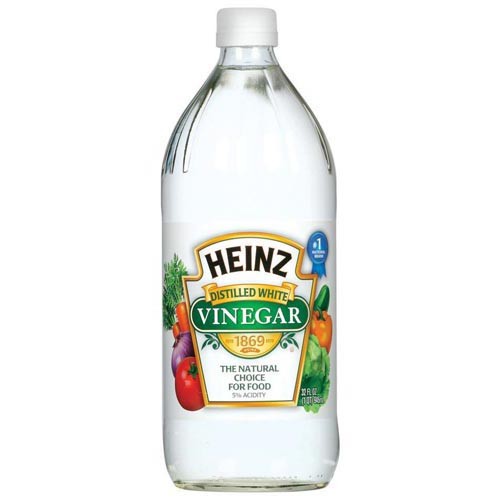 This is a bottle of vinegar. (Good, glad we got that cleared up.) And while I love vinegar for cleaning my bathroom and my baby, I won't let it get anywhere near my sauerkraut.
We are being told these days about how important it is to eat probiotics--so we are consuming more yogurt and popping probiotic pills. And while these are great ways to get probiotics, there are others, too. My preferred form is sauerkraut. Traditionally, sauerkraut (like pickled cucumbers, carrots or beets) was made with salt and/or whey not vinegar. Vinegar pickles (besides being less delicious) do not have any probiotics.
The recipe I am giving you is a fun variation on traditional green cabbage sauerkraut. (If you want a recipe for straight up sauerkraut check out my awesome friends awesome post.) This recipe I am giving you is an alternative-- fun, delicious, full or good living little things, and... rainbow!
"Rainbow" Sauerkraut
You Will Need:
3 colored beets (I used an orange, a pink, and a purple)
To start out, make sure you have a clean, wooden cutting board and a good sharp knife. Set the cabbage onto the cutting board.
Quarter and core the cabbage. Next, thinly slice each quartered chunk.
Set thinly sliced cabbage into a large bowl. Sprinkled two tablespoons Celtic sea salt over top.
Mix together with your hands. Set aside.
Next, gather your delicious beets onto the cutting board.
With a handheld grater, remove the outer layer from each beet. With a cheese grater, grate each beet individually and place in separate bowls. Set aside.
Next, use a heavy object (I used a potato masher) to pound the green cabbage to release its juice. (You can alternate between letting the cabbage sit on its own and "sweat" out the juice, or you can pound it--either way works.)
When the cabbage is thoroughly moistened and you are getting sprayed with juice, it's ready to put into mason jars. Alternately layer in the beets into separate jars mixed with green cabbage. Push down so that the juice comes up over the top. (Note: This is important! This fermentation process needs to be anaerobic--no air should be touching the cabbage/beet mix. For mine I checked back about every day or so to make sure the juice was covering the cabbage. If it wasn't, I just pushed it back down under). Leave at room temp for at least one week (or longer--depending on how strong you want it.)
Transfer to cold storage. Good with sausage, soup, salad, sandwiches---EVERYTHING! The more probiotics the merrier! Enjoy!
And, do all this while the baby is sleeping, of course. ;)
This post featured in:
LHITS
,
Show&Tell
,
Sharing Saturday
,
Lovely Crafty
,
Strut Your Stuff
,
Snacktime Saturday
,
Hello, Weekend
,
Link Party
,
Create&Inspire
,
OverflowingWithCreativity
,
NaturalLivinMamma
,
BarnHop
,
Meatless Monday
,
MixItUp
,
Monday Mania
,
MeltInYourMouth
,
Sweet Sharing
,
TinyTip
,
Fat Tuesday
,
Scratch Cookin'
,
Tasty Tuesdays
,
Allergy Free
,
FarmgirlHop
,
Gluten Free
,
Healthy2Day
,
Real Food Wednesday